Bouldering Vs. Sport Climbing: Understanding The Differences
Discover the differences between bouldering and sport climbing—two distinct disciplines that share the love for climbing but offer unique experiences.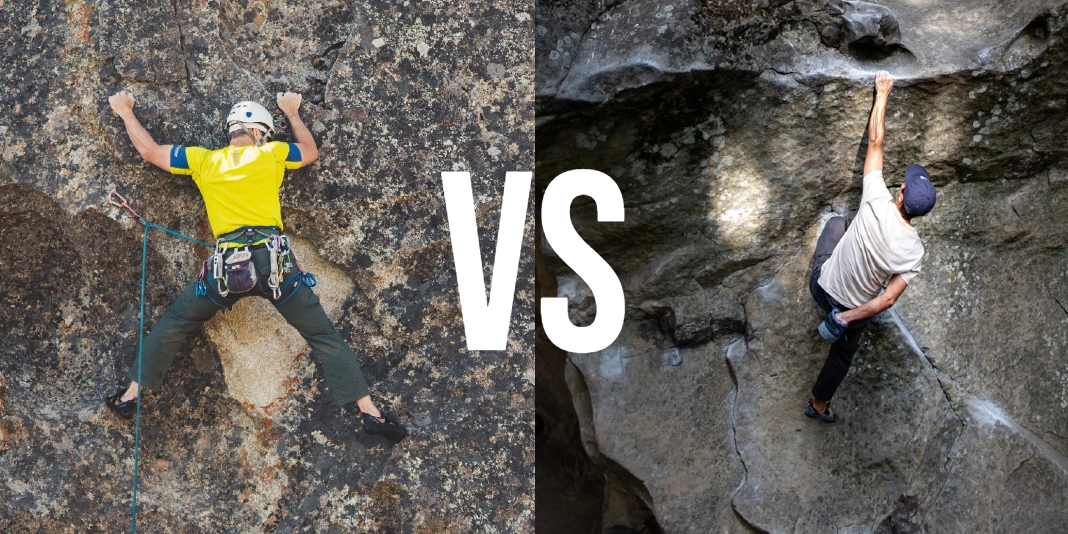 As a climbing enthusiast, you're probably well acquainted with the distinctions between bouldering and sport climbing. These two disciplines share the same love for climbing, but they each offer their own unique experiences and techniques. Let's take a closer look at the differences between bouldering and sport climbing, helping you gain a better grasp of what sets them apart.
The Playing Field
Bouldering: Bouldering involves tackling relatively short yet intense routes known as "problems." Climbers engage in these challenges on boulders, rock formations, or indoor climbing walls equipped with padded mats for safety. The focus here is on powerful moves and creative problem-solving.
Sport Climbing: Sport climbing, on the other hand, revolves around ascending longer routes that feature fixed protection such as bolts and anchors. These routes are often found on taller rock faces, cliffs, or indoor walls, and they emphasize endurance and sustained movement.
Join The Newsletter
Subscribe to get our latest content by email. We won't send you spam. Unsubscribe at any time.
Gear Essentials
Bouldering: Minimalism rules the gear game in bouldering. Climbers rely on specialized climbing shoes and chalk for enhanced grip. Crash pads provide safety during falls. The emphasis here is on strength, technique, and mental agility, rather than an extensive gear setup.
Sport Climbing: Sport climbing requires a more comprehensive gear setup. Climbers need a harness, climbing shoes, quickdraws, a rope, and a belay device. Quickdraws are used to clip into pre-placed bolts, while the rope is crucial for protection and belaying.
Physical Demands
Bouldering: Bouldering demands bursts of power and strength to conquer challenging moves. It's like a series of intense sprints, requiring explosive energy to navigate intricate sequences. Climbers engage in dynamic movements, including dynamic jumps (dynos) and powerful holds.
Sport Climbing: Sport climbing places a premium on sustained movement and endurance. Climbers face longer routes that demand pacing and efficient energy management. Endurance becomes paramount as you tackle multiple moves without the luxury of resting on the ground.
The Mental Game
Bouldering: Bouldering is a mental puzzle. Climbers must decipher sequences, identify holds, and strategize on the spot. Problem-solving skills and quick decision-making are essential as you find the best way to top each problem.
Sport Climbing: Sport climbing involves route strategy. You must read the route, anticipate rests, and manage energy for the long haul. Mental fortitude comes into play as you navigate sustained challenges while maintaining focus.
Social Dynamics
Bouldering: Bouldering often fosters a communal atmosphere. Climbers gather around boulders, share climbing information (beta), and collaborate to solve tough problems. The shorter attempts encourage interaction and support.
Sport Climbing: Sport climbing can have a more individualistic feel due to the longer routes and solo ascents. However, belayers and fellow climbers still play vital roles, offering encouragement and assistance.
In Conclusion
In the world of climbing, bouldering and sport climbing stand as distinct disciplines, each with its own array of challenges, rewards, and techniques. Whether you're drawn to the explosive power of bouldering or the endurance-driven nature of sport climbing, both styles provide an exhilarating path to conquering heights and achieving personal milestones.
Regardless of your preference, remember that climbing is about the joy of movement, the camaraderie of the community, and the continuous pursuit of new accomplishments.
✕
Looks like there is missing information!
Something went wrong, a report has been sent to us to check what happened.
Looks like there was an issue
Comments
You must be logged in to comment!
No comments yet, be the first!