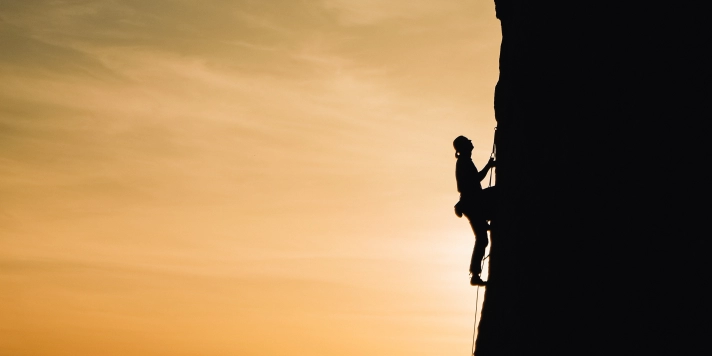 The lead climbing community. Explore discussions, ask and answer questions about lead climbing, sport climbing, trad climbing, and access informative articles.
Lead climbing multiple times a week, this is what helped me overcome my fear of heights, at least while climbing.
I found a friend to climb with, and we climbed 3 times a week. The frequent climbing amount really helped boost my confidence in being up so high, and my confidence in the gear and the knots and everything else.
Though, this didnt last long, as soon after we stopped lead climbing so often, my nervousness came back, and so did the fear eventually. Now I lead climb once in a while, and its hell for me. The fear just takes over once I get to a certain height.
Maybe if I would have climbed more during that time I climbed 3 times a week, meaning, doing it for months or a year, then maybe I would be more immune to the fear of heights, but, unfortunately it only lasted about a month or two. But during that time, towards the end, I was fearless.
You must be logged in to comment!
For me, the most effective way to overcome the fear of heights in climbing was gradual exposure and repeated practice. I started by climbing at lower heights and gradually worked my way up to higher routes as my comfort level increased. By gradually exposing myself to greater heights and challenging myself within my limits, I was able to build confidence and trust in my abilities and the equipment.
Having a supportive climbing partner or experienced mentor who could provide guidance and reassurance also played a significant role in managing and overcoming my fear. Their presence and encouragement helped me focus on the task at hand and stay grounded in the moment.
Additionally, developing trust in the climbing equipment, such as ropes, harnesses, and anchors, through proper instruction and understanding of their functionality was crucial. Understanding the safety measures in place and knowing that I was using reliable gear gave me a sense of security.
Over time, with consistent practice and exposure to higher heights, my fear gradually diminished.
You must be logged in to comment!
When rock climbers need to get their rope up a route, they typically use a technique called "lead climbing." Here's a brief overview of the process:
Preparing the Gear: The climber carries a climbing rope, quickdraws (sets of connected carabiners), and any necessary protective gear like cams or nuts.

Tying In: The climber ties one end of the rope to their climbing harness using a secure knot, such as a figure-eight follow-through or a double fisherman's knot.

Lead Climbing: The climber starts ascending the route, placing protective gear as they climb. They clip the rope through the quickdraws, which are attached to the bolts or anchors on the wall.

Rope Management: As the climber progresses, they manage the rope by periodically pulling up slack and securing it with a series of rope clips or by using techniques like "clipping long" or "short."

Anchor Setup: Once the climber reaches the top or desired stopping point, they set up an anchor using webbing, slings, or specialized anchor gear. This allows them to secure themselves and the rope for subsequent climbers or for rappelling.
It's worth noting that lead climbing requires knowledge of climbing techniques, equipment usage, and rope management skills. Proper training, experience, and understanding of safety protocols are crucial for lead climbing. Climbers often receive instruction from experienced climbers or take courses to learn and practice these skills safely.
It's also important to remember that climbing is inherently risky, and the information provided here is a general overview. It's recommended to seek guidance from experienced climbers, take professional instruction, and always prioritize safety when engaging in rock climbing activities.
You must be logged in to comment!
A climbing bolt is a robust and reliable piece of equipment used in rock climbing. It is designed to provide anchoring and support for climbers. The strength of a climbing bolt can vary depending on its type and specific characteristics. Generally, climbing bolts are engineered to withstand high forces and provide secure attachment points. They are typically made of durable materials such as stainless steel or titanium, chosen for their strength and corrosion resistance. The strength of a climbing bolt is typically measured in kilonewtons (kN), which is a unit of force. Bolt strength can range from around 20 kN to 40 kN or more, depending on the specific bolt design and intended use. It's important to note that the overall strength of a climbing system depends on the quality and proper placement of bolts, as well as other factors such as rock stability and climber technique. So, while climbing bolts are designed to be strong, it is crucial for climbers to exercise good judgment and adhere to proper safety practices when relying on these anchor points.
You must be logged in to comment!
Neither are necessarily harder than the other, It depends on the grade of the route you are climbing and your skills as a climber. You could climb a 5A top rope route that would be equally easy as a 5A lead route. You could also climb an 8A top rope route, and it would be just as hard as a lead route.
One element that could make lead climbing harder than top rope is the fact that you have to clip your rope into quickdraws while climbing. To do this, you have to be efficient at clipping, and you have to be efficient at resting, since clipping, although it may take a fraction of a second, can tire the climber out if they are not efficient at clipping or if the route is just very difficult.
On the other hand, many people who top rope and auto belay may find it a little bit tricky to make their way around the rope that is always in front of them, which sometimes could be a hassle, especially if you are on a very difficult route and the rope is in your way, and you have to move it, or yourself, to get to the next hold. This, like with lead climbing, requires technique and skill.
All forms of climbing have their difficulties, there is not necessarily a harder climbing form than another. Many factors come into play with this question, and it depends greatly on the climbers themselves.
You must be logged in to comment!
Belay means to secure a rope around an object such as a pin, rock, cleat, or a belaying device.
When you are belaying someone, you are securing the rope in a belay device such as a Grigri.
You must be logged in to comment!