Breaking In Synthetic Climbing Shoes: Tips And Techniques
Breaking in synthetic climbing shoes made easy! Our expert tips and techniques help you achieve a perfect fit for maximum comfort and performance.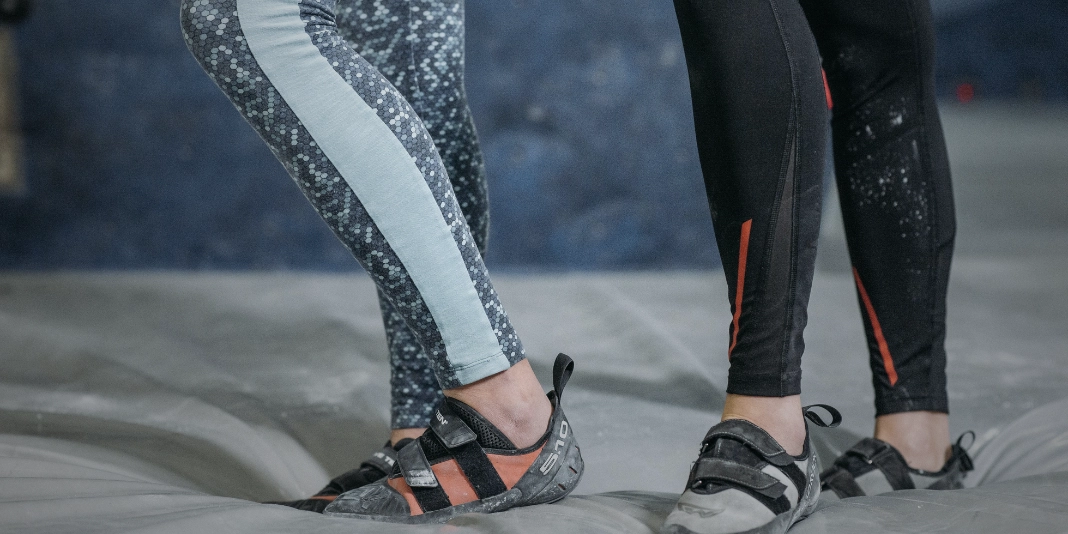 As climbers, we know how important it is to have shoes that fit comfortably and perform well. Synthetic climbing shoes are a popular choice for climbers, offering durability, breathability, and a snug fit that can help you tackle even the toughest routes. However, breaking in synthetic climbing shoes can be a challenge, often requiring time and patience to achieve the perfect fit.
In this article, we'll share our own knowledge and experience to guide you through the process of breaking in your synthetic climbing shoes, so you can enjoy maximum performance and comfort on your next climb.
Understanding Your Shoes
Before you start trying to break in your climbing shoes, it's important to first understand what kind of climbing shoes you have, if they even will break in, and what to expect from the break in period and after it.
Understanding these things will help you better understand not only how to break in your climbing shoes and what to expect, but it will also allow you to make better choices when buying climbing shoes in the first place.
Join The Newsletter
Subscribe to get our latest content by email. We won't send you spam. Unsubscribe at any time.
Which Parts Of The Climbing Shoes Stretch?
Most synthetic climbing shoes are made with materials like synthetic leather or microfiber, which can stretch and mold to your feet over time. However, the degree of stretch can vary depending on the type of shoe and the manufacturer.
Many climbers think that climbing shoes stretch in length, but this is not actually the case. The sole of the shoes do not stretch, as these are made of rubber. What actually stretches is the non-rubber material, such as the synthetic leather or microfiber and other materials.
Can synthetic climbing shoes stretch?
The short answer is yes. Synthetic climbing shoes do stretch and break in, but to a lesser degree than leather climbing shoes. Leather climbing shoes can stretch to even 2 whole size, while synthetic climbing shoes normally stretch up to about half a size at most.
The amount of stretch synthetic climbing shoes will have depends on the specific shoe and the materials used in its construction. This is why it's crucial to choose a climbing shoe that is snug from the beginning, and to not get shoes that are too tight and to expect them to stretch a few sizes.
How much do synthetic climbing shoes stretch?
As mentioned, synthetic climbing shoes normally stretch up to half a size at most, though, this depends on different things such as the materials the shoes are made from, and the type of shoes.
Many climbers don't even notice any stretch at all, not even the normal half a size. This means that their shoes are as tight and as snug as they were the day they bought them.
Are synthetic climbing shoes supposed to be tight?
Many climbers are unsure how synthetic climbing shoes should fit, but, just as with non-synthetic climbing shoes, they should be snug but not too tight.
It's important to keep in mind that synthetic climbing shoes normally stretch only by about half a size at most. This means that if you buy shoes that are too small and too tight, expecting them to stretch 2 sizes, chances are you will end up with shoes that are just too small for you and that will never stretch enough.
For a more detailed guide on buying and fitting climbing shoes, read our guide on buying the right climbing shoes for you.
How To Break In Synthetic Climbing Shoes?
Breaking in climbing shoes in general can be a daunting task, and breaking in synthetic climbing shoes are no exception.
While the same break in methods for leather shoes can be used for synthetic climbing shoes, here are some of our favorites that can really help get your shoes a little bit more comfortable.
For a full list of break-in methods, read our full guide to breaking in climbing shoes.
Climb in them for short periods
Trying to climb a whole session in new climbing shoes can be a very painful experience. Climbing in new climbing shoes for just a few routes at a time, though, can be much less uncomfortable, painful, and can help stretch your shoes without ruining your entire session.
Wear them for as little time as possible
This might sound counter-intuitive, but, try to not wear your shoes for anything other than climbing in them. This means not walking in them, taking them off after routes, and putting them on only at the bottom of routes. The less time spent in your shoes will mean less pain.
Heat them up
This is probably one of the quickest methods for increased comfort and reduced pain, but also maybe one of the more risky ones, as heating up your shoes too much could damage them. To heat up your shoes you can use a small heater, hair dryer, or any other heating method that will just soften the shoes a little bit, but won't damage them (this means it's a no for the microwave).
Use Your Shoes on Easy Climbs
It may be one of the most tempting things to wear new climbing shoes on your project routes. This, though, could also be one of the most painful ways to break in the shoes. If you feel it's too much, try climbing only easier routes in the new shoes until they soften up. This could lead to them softening up after just a few routes, or, it may take a few sessions.
Conclusion - Can you Break In Synthetic Climbing Shoes?
Synthetic climbing shoes can break in, but it is important to know what to expect. They won't break in the same way leather climbing shoes will, and this is important to keep this in mind when buying your climbing shoes in the first place.
If your shoes are a little bit too tight, and you need to break them in, do it gradually, try to wear them for short periods of time until they loosen up.
✕
Looks like there is missing information!
Something went wrong, a report has been sent to us to check what happened.
Looks like there was an issue
Comments
You must be logged in to comment!
No comments yet, be the first!