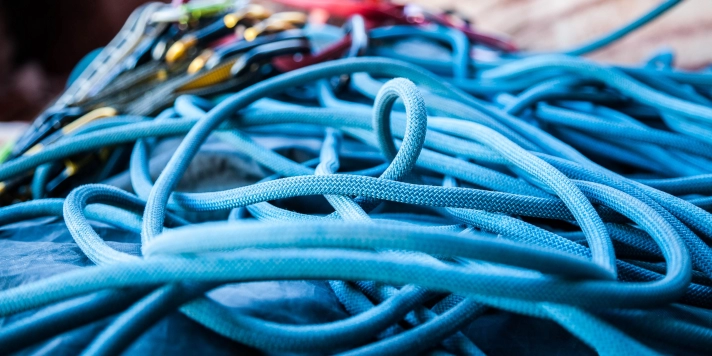 Explore the world of climbing gear, including ropes, harnesses, clamps, runners, and more. Ask questions, share insights, and participate in gear discussions.
There isnt a rule that says you need one, but, if you are going to use chalk then I would say yes, you do.
You could put your chalk in plastic containers like many new climbers do, but this is really not efficient, and its very easy for the chalk to spill and get knocked over.
I think its just a matter of preference. I personally order very cheap chalk blocks online and just break them up in my chalk bag.
You must be logged in to comment!
Not so much that it will spill out, and not so little that you have to scrape the sides for it.
I tend to have 1-2 broken down chalk blocks in my chalk bucket. But this also depends on the size of your chalk bag.
You must be logged in to comment!
Some climbers prefer chalk powder because it is more convenient to use, allows for better distribution on the hands, and creates less dust. Others may prefer chalk blocks because they like the texture or find them easier to handle. Ultimately, both chalk powder and chalk blocks serve the same purpose of improving grip by absorbing moisture from the hands.
You must be logged in to comment!
It is generally not necessary to wash your chalk bag frequently unless it becomes visibly dirty or starts to develop an unpleasant odor. Chalk bags are primarily used to hold and dispense chalk, which is a dry substance. However, over time, the inside of the bag may accumulate some dust, dirt, or sweat from your hands.
If you feel that your chalk bag needs cleaning, here are some guidelines to follow:
Empty the Bag: Remove all the chalk from the bag and dispose of it properly.
Spot Cleaning: If there are specific areas of the bag that are dirty or stained, you can use a damp cloth or sponge with mild soap to gently clean those areas. Avoid saturating the fabric and allow it to air dry completely.
Hand Washing: If your chalk bag is made of fabric that can be submerged in water, you can hand wash it using a mild detergent. Fill a sink or basin with lukewarm water and add a small amount of detergent. Gently agitate the bag in the water, paying attention to any heavily soiled areas. Rinse thoroughly with clean water and allow it to air dry completely.
Machine Washing (if applicable): Some chalk bags are machine washable. Check the manufacturer's instructions or tag on the bag to determine if it is safe to machine wash. If so, use a gentle cycle with mild detergent and wash it separately or inside a laundry bag to prevent damage to the bag or other items in the wash.
Remember to consult the specific care instructions provided by the manufacturer for your chalk bag, as different materials and construction methods may require different cleaning approaches.
You must be logged in to comment!
The longevity of a chalk ball can vary depending on factors such as frequency of use and personal preference for chalk application. Generally, a chalk ball can last for several months to a year or even longer. How quickly you go through a chalk ball will depend on how often you climb, how much chalk you use per session, and the size of the chalk ball itself.
As the chalk ball is used, it gradually depletes, becoming smaller and less effective. You may notice that the ball feels lighter and there is less chalk being dispensed. Eventually, the chalk ball will need to be refilled or replaced.
You must be logged in to comment!
Yes, you can refill a chalk ball. Chalk balls are designed to be reusable and refillable. When your chalk ball starts to run low, you can simply open it up, add loose chalk inside, and then close it securely. This allows you to continue using the chalk ball without the need to purchase a new one. Refilling a chalk ball is a cost-effective and environmentally friendly option. Just make sure to use high-quality loose chalk that is suitable for climbing to maintain optimal performance.
You must be logged in to comment!
Yes, chalk helps to absorb moisture and sweat from your hands, which can provide a drier and more secure grip while climbing. When you apply chalk to your hands, it can reduce the moisture on your skin, allowing for better friction between your hands and the climbing holds. This can help prevent slipping and improve your overall grip strength.
However, it's important to note that excessive use of chalk can lead to dryness and potential skin irritation. Some climbers may experience dry or cracked skin with prolonged use or in dry environments. To minimize this, it's a good idea to apply chalk in moderation and moisturize your hands after climbing to maintain the health of your skin.
Additionally, it's worth considering the use of liquid chalk or chalk balls, which can provide a more controlled and efficient application of chalk, reducing the amount of loose chalk in the air and potentially drying out your hands less.
You must be logged in to comment!
Climbing chalk does not have a specific expiration date. It is a simple compound of magnesium carbonate that does not degrade or spoil over time. As long as the chalk remains dry and free from moisture, it should remain effective for its intended purpose. However, over time, chalk may absorb moisture from the air, which can affect its texture and performance. It can become clumpy and less effective at absorbing moisture from your hands. If your chalk becomes clumpy or less effective, it may be time to replace it. Storing your chalk in a sealed container or a chalk bag can help prolong its lifespan and prevent moisture absorption.
You must be logged in to comment!