What Are Aggressive Climbing Shoes And Are They Good For Beginners?
Aggressive climbing shoes offer enhanced performance for experienced climbers, but are they a good choice for beginners? Learn more and decide for yourself.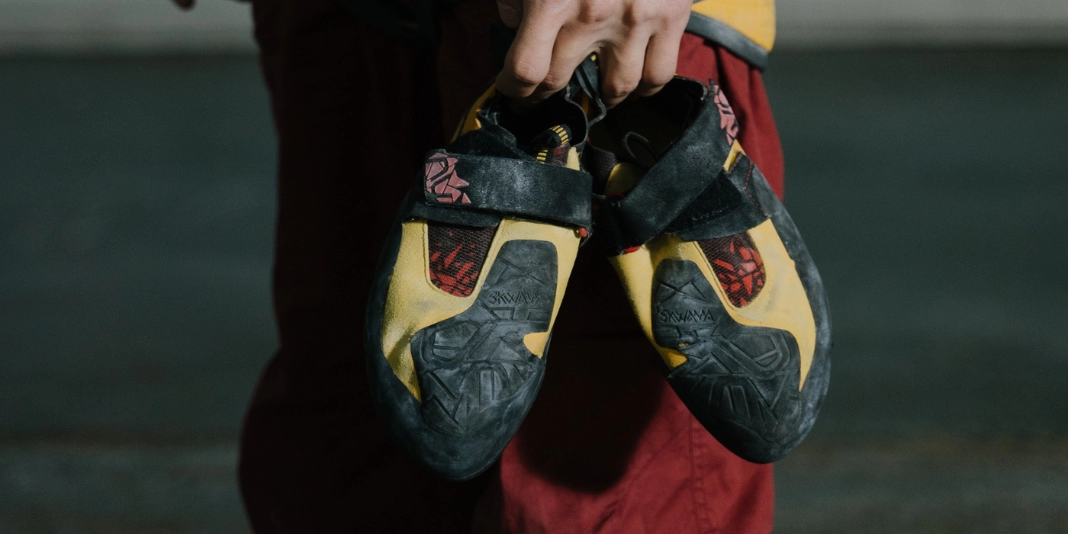 As a climber of any level, you have probably heard of aggressive climbing shoes. These specialized shoes are designed to enhance your performance and help you tackle even the most challenging routes.
In this article, we'll take a closer look at what aggressive climbing shoes are and if they are actually worth it for beginner climbers.
What Are Aggressive Climbing Shoes?
Aggressive climbing shoes are a type of climbing shoe that is designed for high-performance climbing.
They are characterized by a downturned shape, an asymmetrical design, and often have a relatively sticky rubber sole compared to moderate climbing shoes and neutral climbing shoes.
These features work together to provide enhanced grip, sensitivity, control, and precision on even then smallest holds and edges.
Join The Newsletter
Subscribe to get our latest content by email. We won't send you spam. Unsubscribe at any time.
What Are The Benefits Of Aggressive Climbing Shoes?
Aggressive climbing shoes offer several benefits for experienced climbers looking to tackle challenging routes. Here are some of the main benefits of aggressive climbing shoes:
Enhanced Performance
Aggressive climbing shoes are specifically designed to help you perform better while climbing. The downturned shape and asymmetrical design of these shoes allow you to transfer more power to the toe of the shoe, providing greater precision and control while climbing.
Additionally, the sticky rubber sole gives you more friction, allowing you to stick to the rock and make more precise movements.
Better Technique
Aggressive climbing shoes can also help you improve your technique. Because these shoes provide more precision and control, they allow you to make more deliberate and accurate movements and foot placements. This can help you develop better footwork and body positioning, leading to more efficient climbing and fewer falls.
This mainly benefits experienced climbers who already know the basics of climbing, body positioning, and have good climbing technique. It allows them to further increase their skills and technique.
Better Sensitivity
Aggressive climbing shoes can also provide better sensitivity than moderate or neutral climbing shoes. The downturned shape and asymmetrical design allow for better contact between the foot and the holds, which enhances sensitivity and helps climbers feel the holds more accurately. This can be particularly important for climbers tackling challenging routes where every small edge and hold counts.
Increased Power
The downturned shape of aggressive climbing shoes also helps increase power when climbing. By pushing the toes forward into the downturned shape of the shoe, climbers can generate more power and leverage, which allows them to make more dynamic movements and tackle steeper routes.
Versatility
While aggressive climbing shoes are primarily designed for overhanging and steep climbing, they can also be used for other types of routes, such as slabs and vertical walls. Additionally, they can be used in a variety of climbing types, from bouldering to sport climbing to trad climbing. This makes them a versatile choice for experienced climbers who want a single shoe that can handle a variety of different routes and styles.
Are Aggressive Climbing Shoes Good For Beginners?
While the features of aggressive climbing shoes can benefit climbers looking to push their limits, they may not be the best choice for beginners.
Could Promote Bad Technique And Habits
Beginner climbers need to focus on developing good technique, which involves learning how to use their feet and body effectively to maintain balance and control while climbing. Aggressive climbing shoes, with their downturned shape and asymmetrical design, may promote bad habits, such as relying too much on the front of the foot and neglecting the use of the heel. This can hinder a beginner's progress and make it harder for them to develop good technique.
Having good technique starts from knowing how to utilize your own body first, regardless of the shoes you are climbing in. Learning these basics, and developing good habits that do not rely on any kind of gear, will allow you to develop even greater skills later on and to progress more quickly.
Aggressive Climbing Shoes Can Be Uncomfortable For Beginners
Aggressive climbing shoes are often less comfortable than more neutral and moderate climbing shoes. They tend to have a tighter fit and stiffer sole, which can be uncomfortable for beginners who are not yet used to this type of shoe. This discomfort can make learning to climb less enjoyable and more difficult.
Beginners May Not Benefit From Aggressive Shoes
As mentioned throughout this article, aggressive climbing shoes are very beneficial to more advanced and experienced climbers. It's because these shoes provide them with the accuracy, precision, and performance they need in order to climb very hard and difficult routes.
Beginner climbers do not typically climb such hard routes that they require high-performance shoes. Most beginner level routes also won't have such small holds that require such precision and sensitivity.
This means that beginner climbers may not actually gain anything by wearing aggressive climbing shoes. On the contrary, due to how uncomfortable they can be for new climbers, they may even reduce the climbers performance.
Conclusion
In conclusion, while aggressive climbing shoes offer several benefits for experienced climbers, they may not be the best choice for beginners. The decision to use them ultimately depends on individual preference and climbing goals. By weighing the pros and cons, climbers can make an informed decision and choose the right shoe for their needs.
✕
Looks like there is missing information!
Something went wrong, a report has been sent to us to check what happened.
Looks like there was an issue
Comments
You must be logged in to comment!
No comments yet, be the first!