The Addictive World Of Bouldering: Why Climbers Keep Coming Back
Discover the allure of bouldering & its rising popularity! Unravel why climbers keep returning to this addictive sport. Find out what draws them in.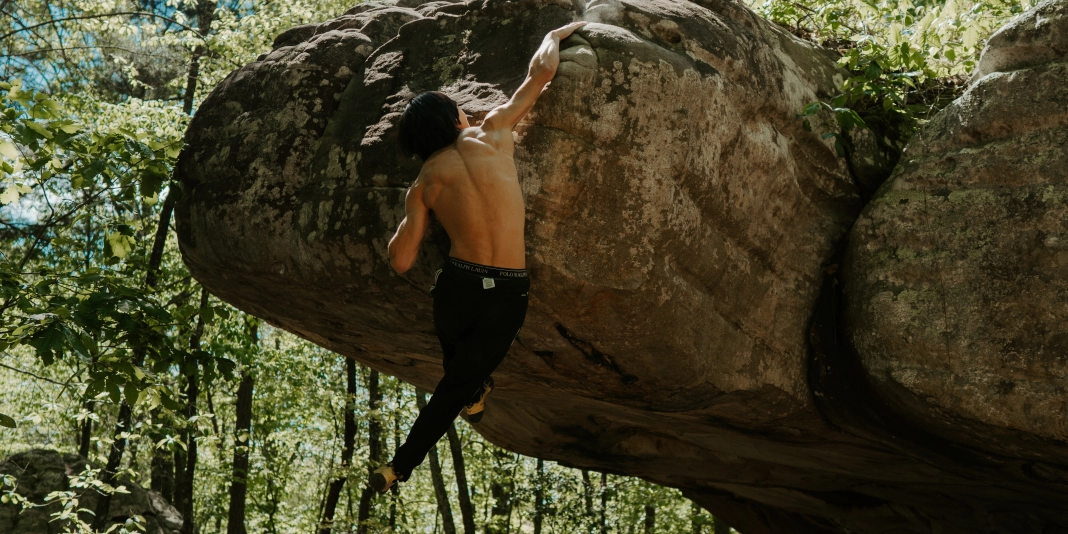 Let's take a closer look at bouldering and try to understand why it has become so popular in recent years. From first time boulderers, to the absolute elite, bouldering is a sport that keeps pulling us all back for more. In this article, we'll look at the growing popularity of bouldering, the compelling pull that keeps climbers hooked, and the profound psychological components that contribute to the addiction.
The Bouldering Boom: From Niche to Mainstream
In the past few years, boulderings popularity has sky rocketed, and taking a closer look at the sport, it's pretty easy to see why. This dynamic form of climbing is like solving a puzzle on the wall, and the satisfaction of conquering those boulder "problems" is unparalleled. With minimal gear required and indoor bouldering gyms popping up everywhere, it has become an accessible and addictive hobbie sport for enthusiasts of all backgrounds.
Join The Newsletter
Subscribe to get our latest content by email. We won't send you spam. Unsubscribe at any time.
The Pull of Bouldering Addiction
It's not just the physical challenge that keeps us coming back and wanting more. There's something deeply captivating about the sport that draws climbers back, again and again. The thrill of tackling a new route, the camaraderie with fellow climbers, and the sense of accomplishment when we finally nail that elusive problem - it's an intoxicating cocktail that leaves us wanting more.
The Psychology Behind the Obsession
The psychological aspects of bouldering play a significant role in our unwavering dedication. When we're on the wall, all distractions fade away, and we're fully immersed in the present moment. The mental focus required to navigate each move sharpens our minds and allows us to forget about the stresses of everyday life. It becomes a meditative experience, where the only thing that matters is the next hold and the joy of movement.
Taking It to the Next Level: From Hobbyists to Dedicated Boulderers
For many climbers, bouldering is more than just a hobby they picked up to stay fit. It's a sport that has become a way of life for them, their passion. This passion deepens as they push themselves to new skill levels, unlock higher grades, and see the progression they are able to make in a relatively short amount of time. Training programs become part of their daily routine, even for those who never followed a training program before. They train and work harder to push themselves to be able to climb their next project. The sense of achievement they feel when they top a boulder fuels this passion even further, causing them to train even harder in order to top the next hard boulder and push themselves even higher.
Conclusion: Embrace the Addiction and Climb On!
In conclusion, bouldering isn't just a sport; it's a way of life that leaves an everlasting imprint on our hearts. The addiction to the climb is fueled by the mental and physical aspects that bouldering embodies. So, fellow climbers, let's celebrate the joy of bouldering and cherish every moment on the wall. Embrace the addiction, challenge yourself, and climb on to new heights!
Commonly Asked Questions
Why has bouldering become so popular in recent years?
Bouldering's rising popularity can be partly attributed to its accessibility, minimal gear requirements, and the satisfaction of solving boulder "problems."
What makes bouldering addictive?
The thrill of tackling new routes, the sense of accomplishment, and the meditative flow state experienced during climbs contribute to its addictive nature.
Why do climbers keep coming back to bouldering?
Bouldering is a form of rock climbing that doesn't require too much gear or preperation, you can just go to a climbing gym and start climbing. It also utilizes the same mental and physical requirements as other types of climbing, but in a different blend, since boulders are shorter, more physical routes.
How can I take my bouldering to the next level and become more dedicated?
Set goals, follow a training program, challenege yourself with harder routes and harder moves, climb with other climbers that are on a higher level than you. Here is an article covering progression strategies for beginners.
✕
Looks like there is missing information!
Something went wrong, a report has been sent to us to check what happened.
Looks like there was an issue
Comments
You must be logged in to comment!
No comments yet, be the first!