Comparing Bouldering And Gym Workouts For Strength
Explore the contrasts between bouldering and gym workouts, uncovering their unique benefits, drawbacks, and effects on strength, physique, and overall wellness.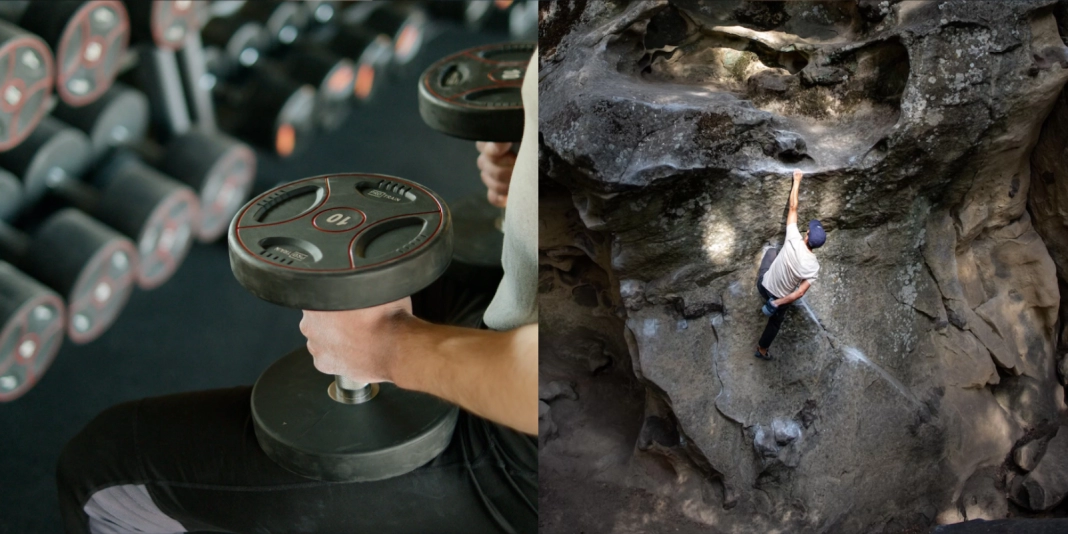 The options within the fitness world for those who have the goal of enhancing their physical strength, overall well-being, and endurance are abundant. Among these options, bouldering and gym workouts have gained significant popularity due to their distinct methods of promoting fitness.
Bouldering focuses on functional strength, agility, and mental resilience, while gym workouts emphasize muscle development and isolation through weightlifting.
In this article, we'll dive into the contrasting realms of climbing and lifting, examining their distinct benefits and potential drawbacks. Whether you're drawn to the thrill of scaling walls or the rigors of weightlifting, understanding these avenues will help you make informed decisions about your fitness journey.
Bouldering: The Vertical Challenge
Bouldering, a form of rock climbing sans ropes, immerses climbers in a blend of physical and mental prowess. It demands agility, balance, and problem-solving skills. With each ascent, you engage various muscle groups, fostering overall body strength and flexibility. The dynamic nature of bouldering activates stabilizing muscles, enhancing joint strength and coordination. Additionally, the sense of accomplishment derived from conquering challenging routes fosters a strong mental fortitude.
Benefits:
Engages multiple muscle groups
Improves coordination and balance
Enhances mental resilience
Provides a full-body workout
Drawbacks:
Limited focus on specific muscle isolation
Requires specialized equipment and access to climbing facilities
Join The Newsletter
Subscribe to get our latest content by email. We won't send you spam. Unsubscribe at any time.
Gym Workouts: Lifting for Power
Gym workouts, specifically weightlifting, hone in on targeted muscle groups, emphasizing strength, hypertrophy, and muscle isolation. With a wide array of exercises and equipment at your disposal, you can tailor your regimen to suit specific fitness goals. Weightlifting increases muscle mass, elevating metabolic rate and fostering a toned physique. Progressive resistance training promotes consistent growth, allowing you to track and measure improvements.
Benefits:
Targets specific muscle groups
Enables progressive resistance training
Enhances muscle hypertrophy and definition
Adaptable to individual fitness goals
Drawbacks:
Potential for muscle imbalances
Isolation of muscles without holistic engagement
Risk of injury without proper form
Comparing Strength and End Results
Both bouldering and gym workouts yield remarkable results in their own right. Bouldering, with its emphasis on functional strength, agility, and mental resilience, cultivates a versatile physique. Climbers often develop strong core muscles and lean bodies.
On the other hand, gym workouts foster concentrated muscle development, allowing you to sculpt specific areas and target weaknesses. Weightlifters may achieve bulkier muscles and well-defined physiques.
Commonly Asked Questions
What are the main differences between bouldering and gym workouts?
Bouldering focuses on functional strength, agility, and mental resilience, while gym workouts emphasize muscle development and isolation through weightlifting.
Can bouldering replace traditional strength training?
Bouldering offers a unique blend of strength and mental challenges, but it may not fully replace traditional strength training for targeted muscle development.
Is bouldering a good cardio workout?
Bouldering can provide a cardio component due to the continuous movement and elevated heart rate during climbs, but it's not a traditional cardiovascular workout.
Can I achieve a bulkier physique through bouldering?
Bouldering tends to develop lean and functional muscles. If your goal is significant muscle hypertrophy, gym workouts with focused weightlifting might be more suitable.
Should I combine bouldering and gym workouts for optimal results?
Combining both approaches can offer a well-rounded fitness regimen. Bouldering enhances functional strength and mental toughness, while gym workouts target muscle development and isolation.
Conclusion
When it comes to bouldering and gym workouts, there's no one-size-fits-all answer. The choice between these two fitness paths depends on your preferences, goals, and lifestyle. Bouldering offers a holistic approach, melding physical and mental challenges, while gym workouts cater to targeted strength building and muscle development. Ultimately, the ideal approach might involve a blend of both, harnessing the strengths of each to create a well-rounded fitness journey that aligns with your aspirations.
As you embark on your fitness adventure, remember that both bouldering and gym workouts offer unique pathways to strength, health, and self-discovery. It's your journey, your body, and your choice—so climb, lift, or even do a bit of both, and relish in the progress you make along the way.
✕
Looks like there is missing information!
Something went wrong, a report has been sent to us to check what happened.
Looks like there was an issue
Comments
You must be logged in to comment!
No comments yet, be the first!