Feeling The Fit: What A Good Climbing Shoe Should Feel Like
Unleash your climbing potential with the perfect fit! Learn how a good climbing shoe should feel like for optimal performance & comfort. Expert tips inside!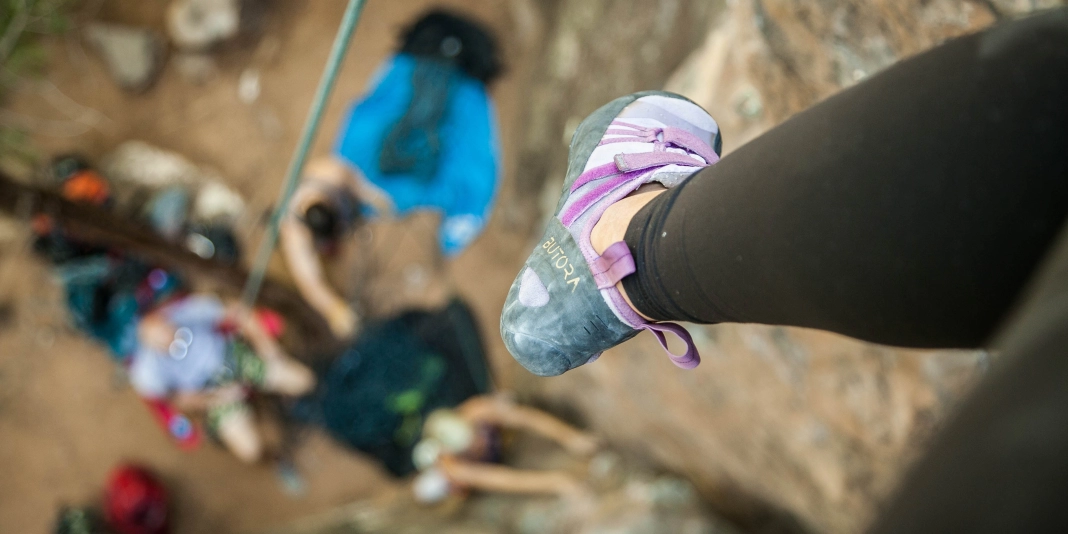 Some links in this post are affiliate links. Meaning, if you click on the link and purchase the item, I will receive an affiliate commission at no extra cost to you.
One of the most critical pieces of gear for climbers is their shoes. Climbing shoes provide essential grip and support while climbing. This support enables climbers to stand on tiny foot holds and perform difficult moves such as toe hooking and heel hooking. However, understanding how good climbing shoes should fit is not always a simple task, and unfortunately can and does go quite wrong many times. In this article, I will share my insights on what a good climbing shoe should feel like and how it should fit, based on my own experience as a climber and going through a number of terribly fitting climbing shoes and properly fitting ones.
A well-fitting climbing shoe should feel snug on your foot, providing a precise fit without causing unbearable pain. The shoe should wrap around your foot like a glove, with no extra space or gaps, allowing for maximum control and sensitivity on the rock. Comfort is essential, but some discomfort is expected due to the tight fit of climbing shoes.
Toe Comfort
One of the key aspects of a climbing shoe's fit is toe comfort. The toe box should allow your toes to lie flat with a slight bend at the knuckles, enabling maximum grip on holds. It should not be too tight or too loose, as this can affect your ability to use your toes effectively for grip and balance. Making sure that your toes are comfortable and not over-cramped in the shoe is crucial for maintaining control and precision while climbing, and for preventing unneeded pain which can reduce the shoe's efficiency and your climbing performance.
A Tip On Toe Comfort
There are quite a few climbing shoes, such as the Mad Rock Drone HV, which have a wider toe box. If you have flat feet or generally wider feet than most, try on climbing shoes with a wider toe box and compare their fit and feel against shoes with a regular or narrower-sized toe box. The wider toe box can make a significant and noticeable difference to your shoe's general comfort, without reducing performance.
Join The Newsletter
Subscribe to get our latest content by email. We won't send you spam. Unsubscribe at any time.
Heel Tension
Proper heel tension is another crucial factor in the fit of a climbing shoe. The shoe's heel should fit snugly and securely against the back of your foot, without any option for slipping and without discomfort. It should be tight enough to not slip off while actively using it in moves such as heel hooking, or pulling your weight with your heel. A well-fitting heel will allow you to effectively use your foot as a lever and maintain stability while climbing.
Material and Closure System
The material of the shoe and its closure system should be considered when choosing climbing shoes that are the right fit for you. The material should be durable, breathable, and flexible enough to allow for precise foot movements while climbing, and should not be too stiff. The closure system, whether it's laced, Velcro, or slip-on, should provide a secure and adjustable fit that can be easily customized to your preference.
Test the Fit
An important part of finding the right-fitting climbing shoes is to try them on and test them thoroughly before buying them. Avoid buying climbing shoes solely based on online sizing charts, as the fit can vary significantly among different brands and models, especially feet. Try on multiple sizes and styles, and take the time to climb in them or perform some foot movements to see how they feel in action. If needed, ask for advice from experienced climbers or professionals at climbing gear stores to help you find the right fit for you, but also remember that the right fit is a personal feeling and preference, so, in the end, you will be the one deciding what the right shoes are for you as you will be the one climbing in them.
Summarizing a Good Fitting Climbing Shoe
To summarize, a good climbing shoe should feel snug and provide a precise fit without causing unbearable pain. It should wrap around your foot like a glove, with no extra space or gaps, allowing for maximum control, sensitivity, and comfort while climbing. Toe comfort, proper heel tension, arch support, as well as the material and closure system, are all important factors to consider when determining the fit of a climbing shoe.
By understanding what the right fit is for you, you can very noticeably improve your climbing experience, comfort, and performance while reducing the possibility for injuries. Remember to try on multiple sizes and styles, test the fit through movements, and seek expert advice when needed.
✕
Looks like there is missing information!
Something went wrong, a report has been sent to us to check what happened.
Looks like there was an issue
Comments
You must be logged in to comment!
No comments yet, be the first!